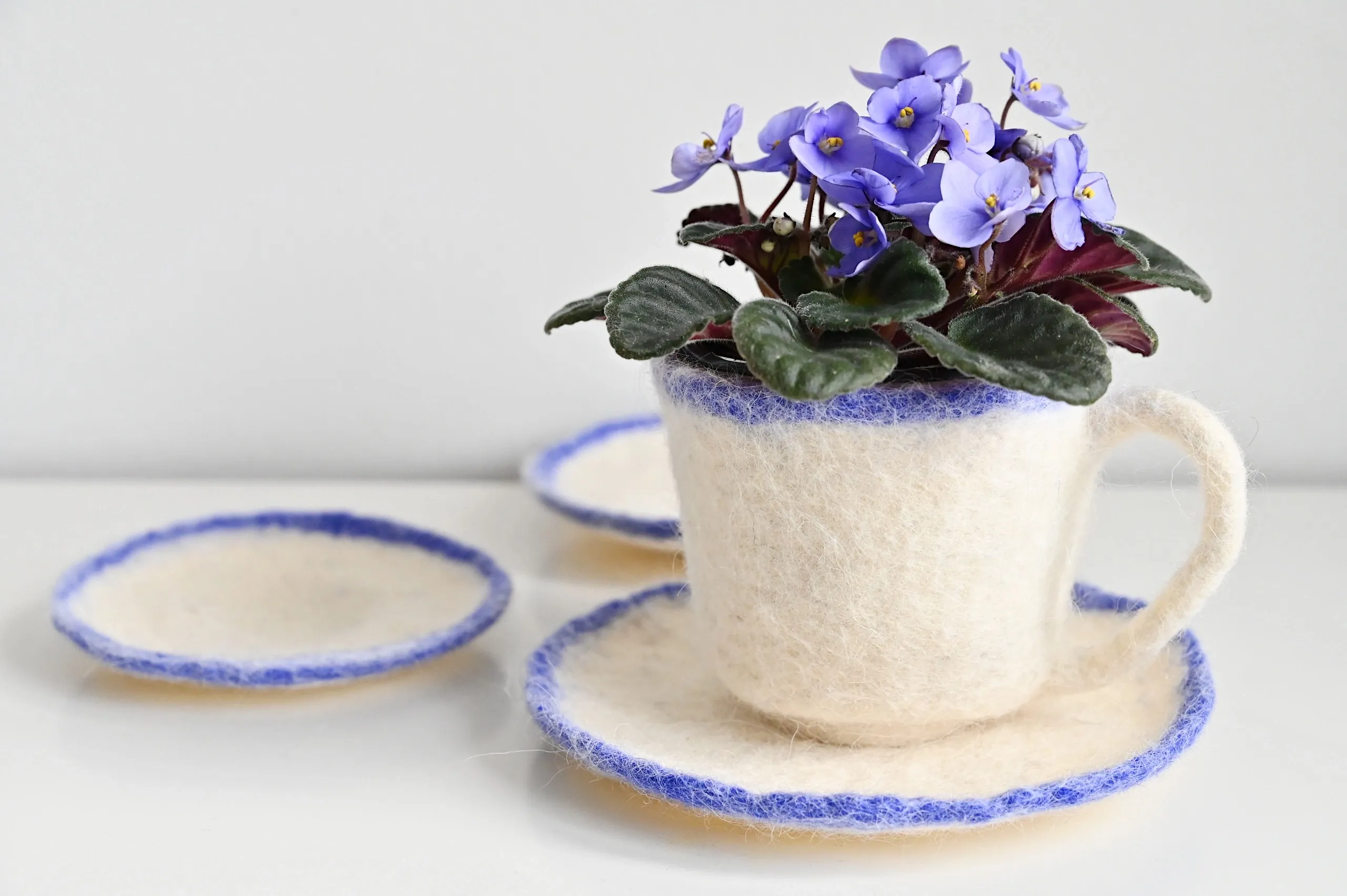 The felted tea cup is an original interior element with a spring spirit and an interesting 3D object made with wet felting technique. Let's felt together!
In this workshop, we will create a wonderful tea pair - a cup and saucer with a blue rim in the three-dimensional wet felting technique. Such a cup can become a spectacular element of the interior. The cup with fresh flowers will look wonderful in any environment and will become a wonderful spring gift.
We will also learn how to make individual calculations for our own patterns, materials and layout style. The theory part will be important, serious and useful for personal creative growth. All the theory is given in the PDF file with course materials, so you can prepare in advance. As a result you will be able to reduce and increase the size of the cup at will. Well, and, of course, apply this knowledge in various projects.
The workshop is interesting and useful, but it requires effort. You can work with any wool, but I highly recommend coarse carded Bergschaf wool or something similar. Suitable for motivated beginners and for experienced enthusiasts.
In the workshop I will show you from start to finish how to felt a tea pair for a flower pot in the wet felting technique. We will work together live on a livestream. The broadcasting time is 3-3.5 hours.
What do we need?
1. Mat for wet felting. I use ribbed kitchen cupboard mat from IKEA shop. It sold in rolls in kitchen section of IKEA. You can find something similar.

2. Soap.

3. Water container.

4. Scissors with sharp tips.

5. Piece of mesh fabric (tulle, thin mosquito net or some fabric for tutu skirts), size AA is enough. You can also use a piece of nylon stockings.

6. The material for the template - a piece of thick plastic bag or laminate underlay.

7. Needle felting tools: mat (dishwashing sponge is fine) and felting needle size 38, gauge star. Medium size needle will work too.

8. Wool: I make a tea set with carded Bergschaf wool 28-32 microns and I recommend it but any wool will work. For a ready cup of about 10 cm in height and 11,5 cm in diameter and saucer with diameter of 17,5 cm, you need about 50 g of wool.

9. The decor is optional. For the blue rim I have used 3 g of blue Australian merino in tops 18 mic. You can also use any fibres you like, yarns, pieces of fabric. Besides, you can add embroidery to ready set or even paint it.

10. A sewing needle and a thread of matching color.

11. Few thin plastic bags (for garbage bin).

12. A pliers (not necessary).

13. A felting stone (optional).

14. Razor.

15. Gloves if necessary. It is good idea to protect your hands. I recommend the nitrile gloves but any plastic or silicone will work. I work with bare hands.

16. A measurement tape.

17. A hand towel.
When will the workshop be held?
The workshop will be held live in your personal account on March 4 at 13.00 Helsinki time (GMT+2). Join me, let's felt together!
How to join the livestream?

To join the livestream you just need to do a simple registration on the website (you name, email and create your own password for setting your personal account).

As soon as you register, you have a personal account on my website, where all the livestreams take place and all your purchased and free learning materials are stored. A recording of this livestream and workshop will also be stored there.

In your personal account, select the sheep livestream picture, click on it, and it will take you to the livestream page. Have a good creative time!
To join a free workshop, create a personal account with a simple registration..
Then add workshops of interest to your account and start creating.
If you already have a personal account, you don't need to register again.
Patterns and lists of necessary equipment and materials are included with the workshops.
Register