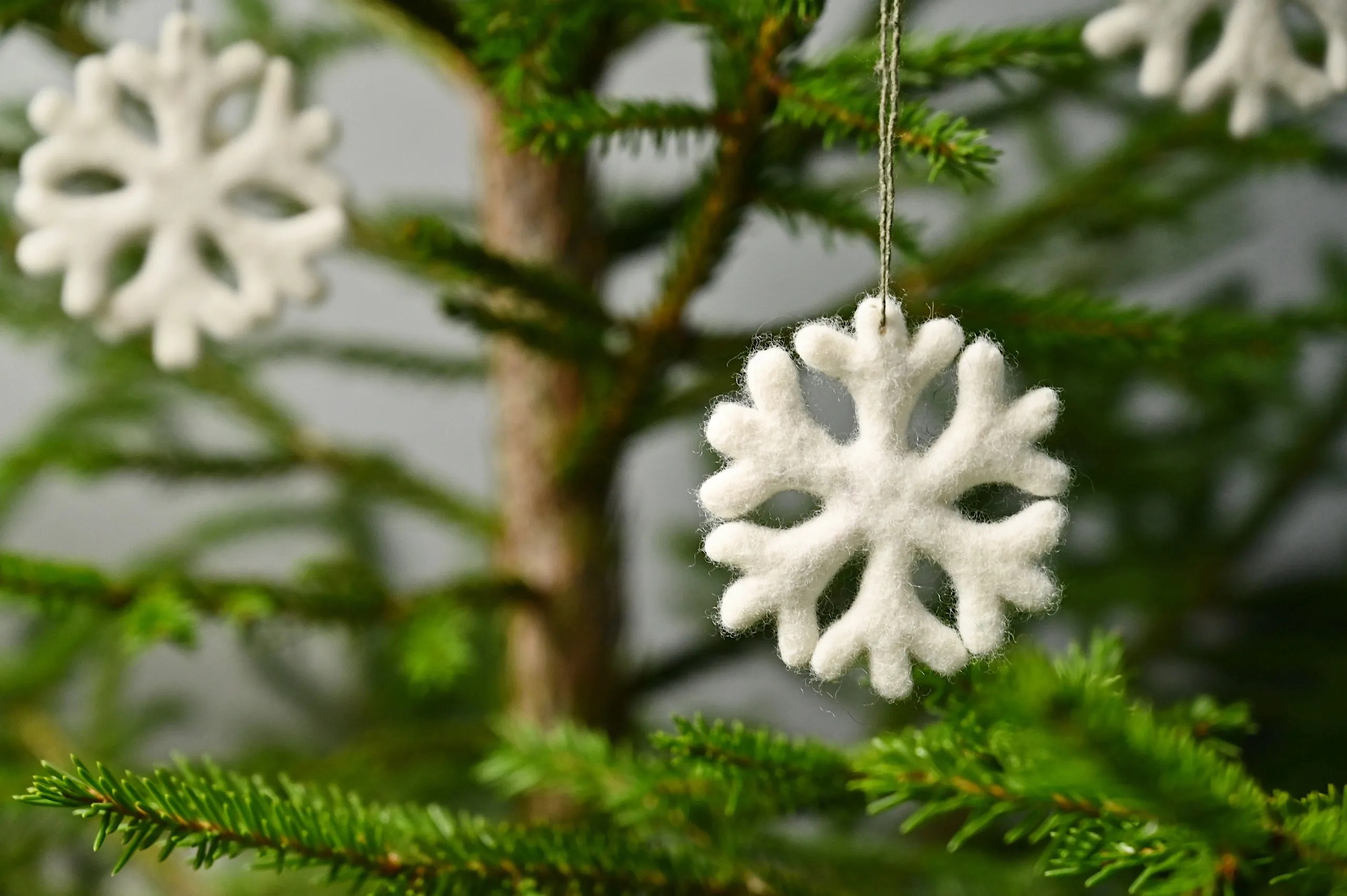 We create the main magic of winter from wool - a wonderful snowflake that will decorate any interior, create a festive mood and at the same time will not melt.
In this workshop, we create a simple and spectacular snowflake by wet felting. The snowflake can be a wonderful decoration for a festive interior, a Christmas tree and even an accessory - a brooch or earrings.
You can work with absolutely any wool. The project is simple, but requires accuracy. Suitable for beginners.
In this workshop, I will show you how to felt a snowflake from start to finish. We work together in a livestream. The livestream time is about 1.5 hours.
What do we need?
1. Mat for wet felting. I use ribbed kitchen cupboard mat from IKEA shop. It sold in rolls in kitchen section of IKEA. You can find something similar.

2. Soap.

3. Water container.

4. Scissors with sharp tips.

5. Piece of mesh fabric (tulle, thin mosquito net or some fabric for tutu skirts), size A5 is enough. You can also use a piece of nylon stockings.

6. The material for the template - a piece of thick plastic bag or laminate underlay.

7. Wool: I use extrafine Australian merino in ribbon (18-20 micron). But you can use any wool - fine, coarse, in ribbon or carded. The only thing is that snowflakes made of a coarser wool will be more hairy on the surface, so that you will have to spend more time cleaning them and removing the hair. For a snowflake with a diameter of 6 cm I use 2 g of wool.

8. Decoration. I do without decorations. You could, for example, add sparkles from glitter. See the free Icicle Workshop for this technique.

9. Rope or ribbon if making a snowflake pendant. For the accessories, you will need extra, for example, earring hooks.

10. A measurement tape.

11. A hand towel.
When will the workshop be held?
The workshop will be held live in your personal account on December 3 at 16:00 Helsinki time (GMT+2). Join me, let's felt together!
How to join the livestream?

To join the livestream you just need to do a simple registration on the website (you name, email and create your own password for setting your personal account).

As soon as you register, you have a personal account on my website, where all the livestreams take place and all your purchased and free learning materials are stored. A recording of this livestream and workshop will also be stored there.

In your personal account, select the sheep livestream picture, click on it, and it will take you to the livestream page. Have a good creative time!
To join a free workshop, create a personal account with a simple registration..
Then add workshops of interest to your account and start creating.
If you already have a personal account, you don't need to register again.
Patterns and lists of necessary equipment and materials are included with the workshops.
Register