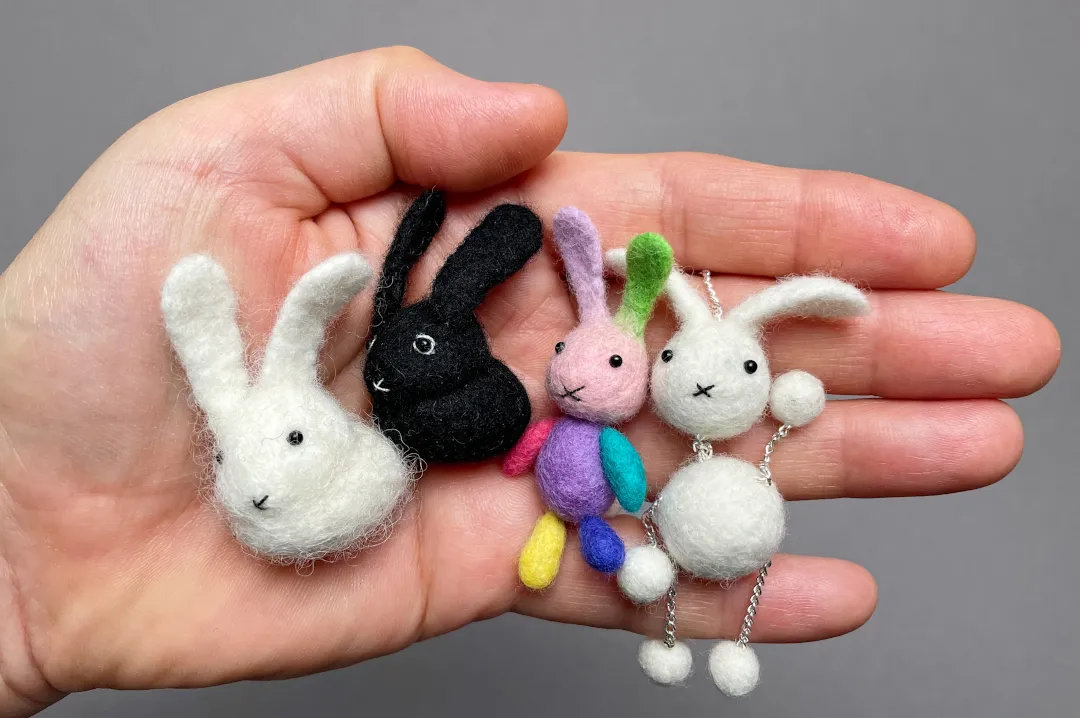 Cute bunnies made of wool balls are a quick miracle to create in just an hour.
In this workshop, we will create cute little bunnies from ordinary wool balls using the wet felting technique. You can easily create all kinds of bunnies from simple shapes and turn them into festive souvenirs, pocket toys or pretty accessories.
You can work with any wool, although fine fibres are preferred for delicate accessories. The project is not complicated and countless characters can be made from it. Suitable for beginners. I think children might enjoy such a project too.
In the workshop, I will show from beginning to end how to felt a bunny in different variations. We will work together in a live livestream. The livestream time is 1,5 hours.
What do we need?
1. Mat for wet felting. I use ribbed kitchen cupboard mat from IKEA shop. It sold in rolls in kitchen section of IKEA. You can find something similar.

2. Soap.

3. Water container.

4. Scissors with sharp tips.

5. Needle felting tools: mat (dishwashing sponge is fine) and felting needle size 38, gauge star.

6. Wool: I make my bunnies from superfine Australian merino 18-20 microns in ribbon. You can use absolutely any wool (fine, coarse, in ribbon or carded), but coarser wool will give a more "hairy" surface, which will need to be cleaned. It takes 1-3 g of wool per bunny, depending on size and species. Bunnies sizes: colored is 5.5 cm tall, sitting rabbits are 4,5 cm tall and 3 cm wide.
You can make a fluffy body by adding some alpaca fleece or angora rabbit down, for example. You will need a small cat brush to brush up the fluffy surface of the finished bunny.
7. Plastic eyes for the bunny - I have 2 mm. You can easily replace them with black beads. To fit the eyes you will need an awl and glue, ideally quick gel glue, and a needle and sewing thread for the beads. The eyes can also be fully embroidered.

8. Sewing needle and sewing thread or mouline floss (I have black for the light bunnies, white for the black ones) to embroider the mouth and nose.

9. Sewing thread to match the color of the bunny to join the pieces.

10. If the bunnies are to become brooches, you will need a pin and for the earrings, additional hardware and a chain.

11. A measurement tape.

12. A hand towel.
You can find pattern and list of necessary tools and materials here.
When will the workshop be held?
The workshop will be held live in your personal account on December 17 at 15:00 Helsinki time (GMT+2). Join me, let's felt together!
How to join the livestream?

To join the livestream you just need to do a simple registration on the website (you name, email and create your own password for setting your personal account).

As soon as you register, you have a personal account on my website, where all the livestreams take place and all your purchased and free learning materials are stored. A recording of this livestream and workshop will also be stored there.

In your personal account, select the sheep livestream picture, click on it, and it will take you to the livestream page. Have a good creative time!
To join a free workshop, create a personal account with a simple registration..
Then add workshops of interest to your account and start creating.
If you already have a personal account, you don't need to register again.
Patterns and lists of necessary equipment and materials are included with the workshops.
Register